seafoto.com
Maritime Photography
Once LV#79 settled into its drydock position, the scope of the repair greatly increased as shipworm damage was greatly more than anticipated. Cash expenses incurred during the two-year Drydock Preservation Project total $198,400. Donated materials and services totaled about $65,000. Almost one half ton of Oakum was purchased, rolled and calked into the seams. 145 sheets (5000 lbs) of a chemical resistant, high-impact plastic were donated by Kydex, Fifty cans of Z SPAR underwater seam compound were donated, close to 200 lbs of bronze silicone rings nails secured kydex to the hull. Over ninety 5-gallons pails of tar from Palmer "Bulldog" Asphalt were donated to embed plastic against the new planked hull. Over 2000 galvanized metal spikes and timber bolts refastened the planks to the frames at every crossing.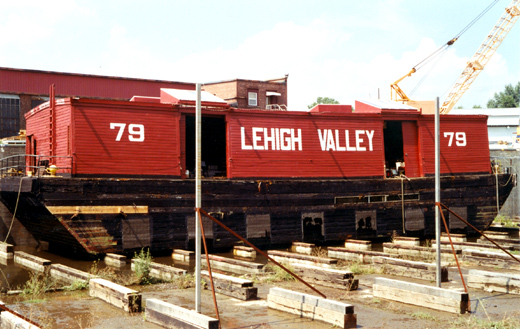 Water in the NYS Canal Corporation's Graving Dock is 2' deep after the barge was floated and moved seven feet in order to repair the planks that previously were located directly above the ways.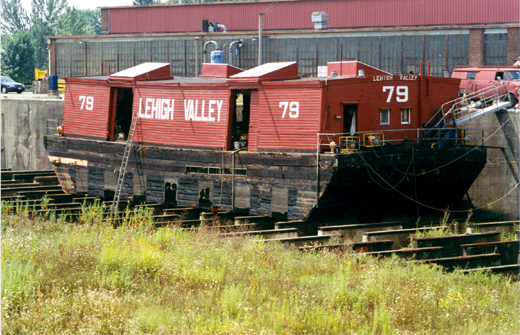 After the graving dock was emptied of water, the LV#79 was in its final phase to have 30' long leaf yellow pine planks replaced. Close to 100 planks were replaced on the bottom, bow and stern. $25,000 were spent on timbers sawn from a Georgia plantation that was being deforested for development.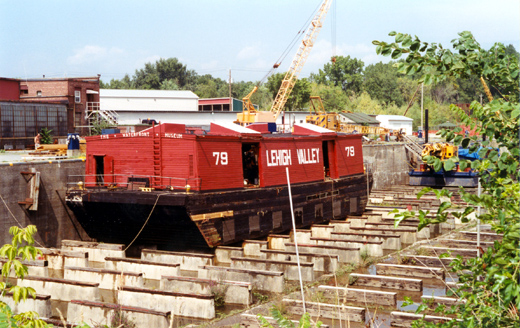 Full lenght view of LV#79 in drydock.